March 30, 2020
In environmental terms, the next ten years may turn out to be the most critical decade in history, says Peter Bakker, a man who is arguably better positioned to comment on the current state of play than most. He heads WBCSD, a CEO-led organization of global businesses (including KONE) that work together and use a science-based approach to accelerate the transition to a sustainable world. As such, Bakker has a front-row seat to the latest developments in issues such as climate change, renewable energy, the circular economy, urban mobility and built environments. And according to Bakker, if we do not come up with enough scalable solutions to build dense, modern, sustainable cities during this 10-year window, our time will be up.
"The choices we make between now and 2030 are critical," says Bakker. "It's time for businesses to step up: to lead, to innovate, to bring solutions – and then to scale them."
Building great cities, he says, is a key part of the solution. As more of us seek out urban environments in which to live, work and play, cities that enrich the lives of inhabitants while at the same time minimizing the negative impacts of urban life and infrastructure on the planet can help to redress the balance.
The rise of the megacity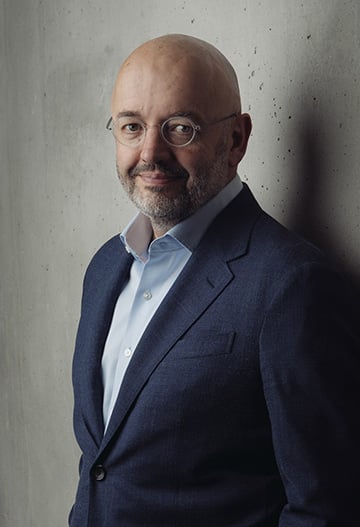 The UN predicts that around 2.5 billion more people will be living in cities by 2050. Because of this mass influx, the world needs cutting-edge cities with forward-facing infrastructures. Bakker believes that dense cities are the answer, adding that the trick is building the right environment that allows the inhabitants of these new metropolises to thrive.
"I think the positive aspects of urbanization are that cities ,and megacities in particular, bring lots of people together and create an environment where the economy grows, where jobs are available and where a wide set of services can be made available to the people who live there," says Bakker. "It's a much a better environment to take care of people, to provide quality of life."
Bakker feels that the businesses involved in building these cities are integral to their success. "I think in general companies have three roles. one is the financing capability, the second is the innovation capability and the third one is the scaling of solutions."
When planning the cities of tomorrow, Bakker says that everything should start with great buildings – not least because the built environment accounts for around 40% of the world's emissions.
"What are the materials we use in them? How can we make sure that these materials have circularity, so they can be refurbished, reused and repaired?" he lists as some of the critical questions companies should be thinking about. "I would expect in the next decade you'll see enormous amounts of innovation, with companies like KONE coming up with new ideas and new solutions. Because that's what we need."
All cities are not created equal
Vast suburban areas are not part of Bakker's vision for a sustainable future.
"If you go to the U.S. and look at a city like Atlanta," says Bakker, "its metropolitan area has the same number of inhabitants as a city such as Barcelona. But in terms of area, Atlanta is very much bigger. Because of that, the only way to move around Atlanta is by car, which means lots of vehicles on the road."
If you make a city compact and dense, everything becomes walkable. "You can better integrate green spaces, and you can bring people much closer to their workplace or to the services they need," he says.
Yes, there are challenges inherent in urbanization. Bakker lists pollution, air quality, congestion and inequality in access to services among them. But he feels that the answer is to think of cities as a holistic platform for solutions, where even these challenges are best resolved. "If we build them smart and in new and innovative ways, we have a real chance of making a sustainable world."
The interview with Peter Bakker was conducted and recorded in December 2019 before COVID-19 was declared a pandemic by the World Health Organization.

READ MORE
What's at the heart of Singapore's sustainability success?
What constitutes a sustainable lifestyle
Smart ways to a smart city
Green ambition
Certified with a green bill of health
Beyond business as usual
Sustainability at KONE