The picturesque city of Leerdam in the Netherlands faces the same problem as many urban centers worldwide – how to meet the needs of an aging population when many residents live in buildings that were built without accessibility in mind. It's what made one low-rise apartment block the perfect location for KONE's pilot project: its first prefabricated existing-building elevator installation ever completed in Europe.
Before the pilot, many residents were serviced by a small elevator that was not user friendly and no longer fit for purpose. Difficulties arose because it was too narrow to fit larger items, including an ambulance gurney, the swing doors made access awkward, and there was no step-free elevator access from the main entrance. Building owner GB Vastgoed was proactive and motivated to find solutions that would both improve the resident experience over time and prolong the life of the building.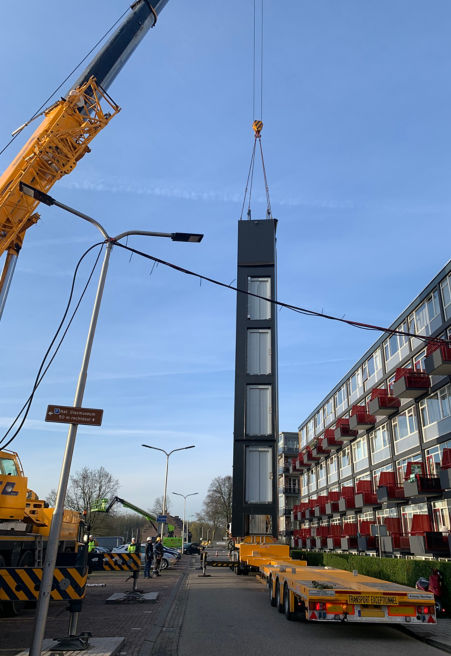 KONE's Modernization Offering Manager Quentin Mariel knew the project was going to be game-changing. "It's a typical scenario in the European residential market – an aging tenant population and the wish for more convenience in buildings," he says. "I see big potential for prefabricated elevator solutions."
Now that the project is complete, tenants in Leerdam are enjoying a roomy, smoothly functioning KONE MonoSpace500 elevator. It's fully accessible – including to paramedics – with mobility-friendly automatic doors that also minimize wear and tear on the elevator's hardware.
"We are all very happy with it because the elevator is more spacious, new, and looks beautiful," says Mevrouw Kool, an occupant of the Leerdam apartment block. "I had to use a wheelchair myself once, and it wasn't possible in the previous elevator."
Also, the fact that the elevator is fast, efficient and brand new will negate the need for further renovation in a few years. And the best thing? It was installed in just a few days on site, with next to no disruption to residents.
People are expecting 2-3 months of installation and disruption, but instead, the installation and finalisation could take just a couple of days
What is a prefabricated elevator?
A prefabricated elevator is a so-called "modular" solution that takes many onsite processes out of the equation. Instead of being assembled and fitted into the shaft in a process that can take many weeks onsite, the elevator is pre-installed into the shaft on the factory floor, transported to the site, then lifted into position by a large crane in a matter of hours. After this the finalization process can take as little as 2-3 days. The solution can even be installed alongside pre-existing (if obsolete) elevators, ensuring minimal, if any, disruption to people flow.
"People are expecting 2-3 months of installation and disruption, but instead, the finalization on site could take a couple of days in total. There are fewer people walking around, less material, less waste. Plus it's easier and safer for the installer, as the elevator is built in a factory where it is dry and warm, with far less work taking place at height in the shaft on site," says Quentin Mariel. "I think it's fantastic."
KONE first tested the new process of fitting a prefabricated elevator to an existing building in China in 2020, after which the quest for European partners also began. Finding motivated and experienced partners was crucial, as KONE's team needed to collaborate closely with third-party installers who must be trained to work with KONE elevators and to represent KONE onsite.
"It's a global innovation with potential for improving installation processes globally, and it would not have been successful if there had not been good collaboration," Quentin Mariel adds.
Experienced shaft manufacturer Van den Beemd Steel Lift Shafts B. V. stepped into the picture, and the partnership surged ahead.
"The relationship we have with KONE is really good," says Gerard van Dijk, Director of Van den Beemd B.V. "The communication goes very well, and lines are short, which means decisions can be made easily. It's been very pleasant." He adds that the ability to communicate and collaborate with KONE's Global team was critical, making it easier to improve and standardize more processes in the future.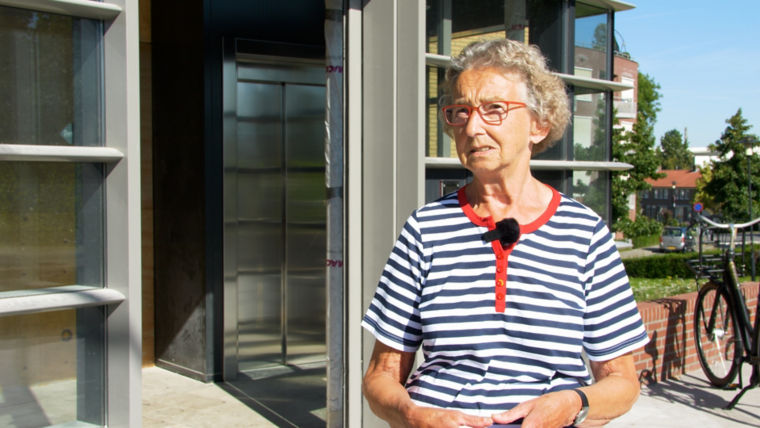 Enabling buildings to adapt to the lives of residents
Technical Field Support Engineer Sander van Zanten was at the front line of the Leerdam modernization project. He likes the fact that, as with any modernization of an existing building, some challenges may reveal themselves only as you move through the process.

"For instance, we overcame one problem by using a partly concrete shaft rather than a fully prefabricated steel one," van Zanten explains. "I always love a challenge, and there's no such thing as the perfect site,"
The installation of the solution is testimony to the resourcefulness of the teams and partners involved, and van Zanten is looking forward to seeing this process standardized and scaled up. After 16 years working with KONE, he says he's still constantly surprised at "how far and fast KONE can adapt and find new solutions for what our customers need. The fact that this solution was built in our partner's factory made it even easier to keep making changes and evolving."
Meanwhile, in Leerdam, the prefabricated elevator solution means both buildings and residents can now change and evolve more seamlessly too, and it's fair to say both are enjoying a new lease of life. Ultimately, modularity supports more inclusive and accessible urban living – and at this pace of innovation, today's pilot will become tomorrow's gold standard.