Imagine 120 children in a play area in a mall with a huge TV, exciting coloring books, helium balloons, ice cream and lots of fun giveaways. This was the setting for a 2-day safety training workshop for children, organized by KONE and Karstadt department store in Hanover, Germany.
Karstadt is one of Hanover's top department stores, with 22 escalators and four elevators that are used by an estimated 2,000 customers a day. To promote customer safety, the partners planned a training event for elementary school and kindergarten children.
"We've all seen children playing on escalators, walking up in the wrong direction, sitting or playing on the steps," says Nicole Köster, Marketing & Communication Manager, KONE Germany. "Other people at risk include elderly people with walking frames and people wearing long skirts, or not holding onto the handrail. We see these unsafe behaviors every day and, as the manufacturer, it's up to us to work with our customers to minimize the risks," she says.
"As most of KONE's elevators, escalators and doors are in public areas, customer safety is of utmost importance to us," she adds.
TRAINING YOUNG MINDS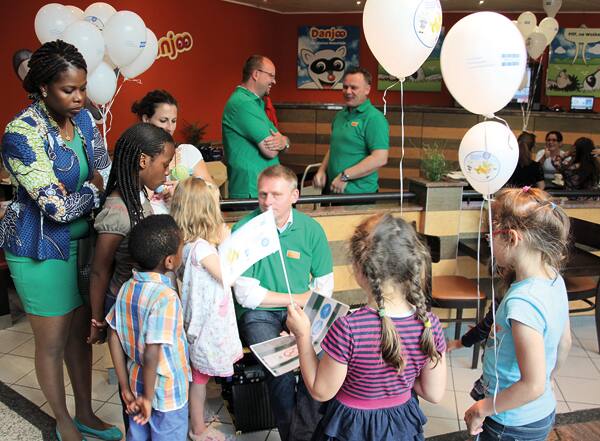 "We used the existing elevators and escalators and held 30-minute training sessions for groups of 10 children at a time," says Jana Bauer, Karstadt Hanover's Marketing Manager. Most importantly, each participant who completed the safety training was awarded an 'elevator and escalator driver's license' issued by KONE and Karstadt.
"Children learn best through play and by experiencing what works and what doesn't," adds Bauer. "While, we've put up signs indicating the correct use of elevators and escalators, workshops that allow children to learn by doing are the best," she notes.
Nicole Köster recalls the conversation between a young girl, who had just completed the training, and her grandmother on an escalator. "The girl was about four years old and we heard her scolding her grandmother, saying 'you have to hold onto the handrail when you're standing on the escalator!'. This proved that she'd listened and really learned something," says Köster.
Karstadt and KONE received positive feedback from the manager of a local kindergarten, who expressed an interest in organizing similar training days for all their groups of children.